For both international and domestic tourists who are into traveling around by motorbikes, the Northwest Vietnam is now the most attractive land to fulfill your dream of conquering. It's the chance for you to subdue rugged mountains, delight in the picturesque rice terraces or rustic ethnic villages when going through following destinations:
Trang An, Tam Coc Bich Dong, Cuc Phuong National Park (a part of Ho Chi Minh Trail in Ninh Binh)
Pu Luong Nature Reserve, Lung Van (Cloud Valley), Ba Khan Lake (dubbed Hoa Binh's Halong Bay in land), Go Lao Waterfall, White Stone Mountain Pass, Hua Tat Pass, Khau Pha Pass, Tu Le Rice Terrace Valley.
Mam Xoi Hill, La Pan Tan, and Lim Mong in Mu Cang Chai.
O Quy Ho Pass, Sapa, Sin Ho, Thac Ba, Pha Din Pass, A Pa Chai (bordered with Laos and China)
Pu Si Lum Peak, Pha Luong Peak
With many years of experience in providing Vietnam Motorbike Tours, BM Travel Adventure knows travelers' demand, and we would like to bring you the most incredible off-road experiences when traveling with us.
The most popular off-road routes for Northwest Vietnam Motorbike Tours
For adventurous-minded motorbike backpackers, routes in Northwest Vietnam always draw great attention to them to conquer. In this article, BM Travel Adventure would like to introduce to you the best Northwest Vietnam routes.
Hanoi – Mu Waterfall – Lung Van – Pu Luong – Mai Chau – Ba Khan – La Chan Pass – Mai Chau
Departing from Hanoi, we head to Mai Chau – one of the most famous tourist spots in Northern Vietnam. Mai Chau is a small charming valley with the pleasant climate, the exciting cultures of the White Thai ethnic group and the typical cuisine.
On the way getting to Mai Chau, you will be passing by Mu Waterfall – a "milky way of the forest" originating from Truong Son range. Nestled in Pu Luong Nature Reserve, Lung Van is your next stop, which is considered "the roof of Hoa Binh", where you can hunt clouds.
Also, you have the chance to explore Ba Khan – a small valley located in Hoa Binh hydropower plant area.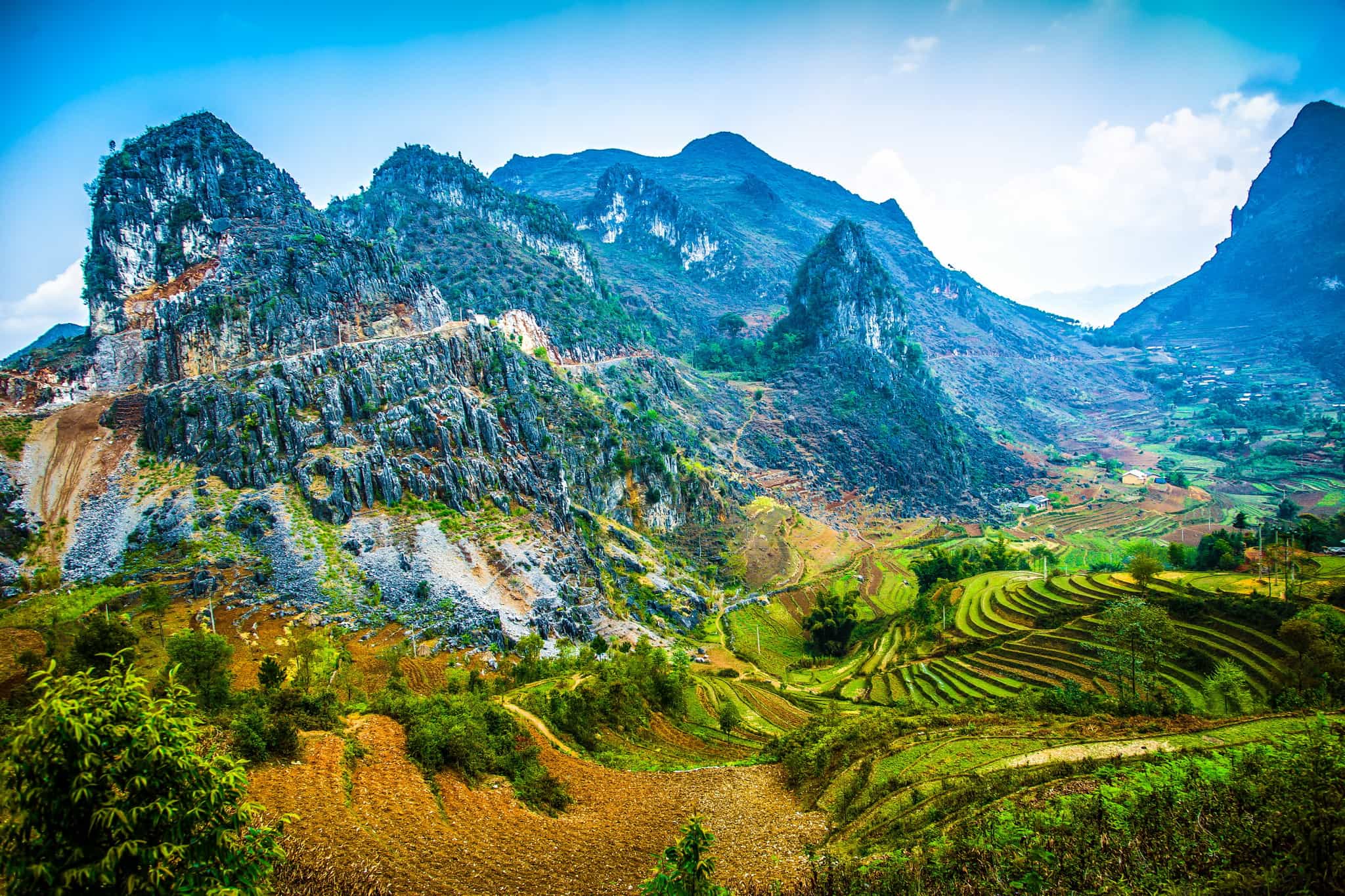 This route is suitable for those who do not have much time travelling.
Mai Chau – Kia Cave – Pa Co – Long Luong – Moc Chau (100% offroad)
This route is 100% offroad in which you can show your outstanding riding skills on rugged trails. Hidden behind the mysterious but rough Thung Khe Pass is the beautiful Hang Kia valley – Pa Co surrounded by primaeval forest with vibrant vegetation. Long Luong village in Moc Chau Plateau will end your trip, where you can understand more about the rural life of Mong ethnic group and immerse in the peaceful scenery here.
Tu Le – La Pan Tan – Mam Xoi Hill
It will be a significant omission for backpackers if you miss this gorgeous route in your Northwest Vietnam Motorbike Tours. Tu Le is a valley in Van Chan, Yen Bai – dubbed a beautiful girl of the mountainous area where is home to small wooden houses hang looming in the sky and marvellous rice fields isolated on the rocky slopes and hugged by mountain ranges.
Passing through winding roads on the mountainside and pristine forest existed for thousand years, you will reach to the most stunning rice terraces in Mu Cang Chai – La Pan Tan and Mam Xoi Hill.
Mu Cang Chai – Che Ta – Muong La – Son La – Moc Chau (85% offroad)
Known as one of the four most dangerous trails in Vietnam, this route requires your excellent riding skills to ensure your safety. The road Che Ta-Muong La lies across three mountain ranges of more than 70 km long, and there are only four villages on the whole route, 2 Mong villages are on Yen Bai side, and 2 Thai villages are on Son La side. Although it is difficult to conquer, you will get memorable experiences in your lifetime.
Sapa – Y Ty – Lao Cai – Muong Khuong – Si Ma Cai – Bac Ha
Lao Cai is a highland province, the most famous spot of which is Sapa. But a few people know that it is also home to a lot of other attractive destinations with bold-characteristic cultures of ethnic groups. With this route, you will have the chance to learn more about their customs through markets such as Y Ty, Muong Khuong, Si Ma Cai, Bac Ha.
Best Northwest Vietnam Motorbike Tours
Understanding the desire of bikers, BM Travel Adventure provides a number of Northwest Vietnam Motorbike Tours that can bring you remarkable experiences. Below are the most favorite tours which we choose for you.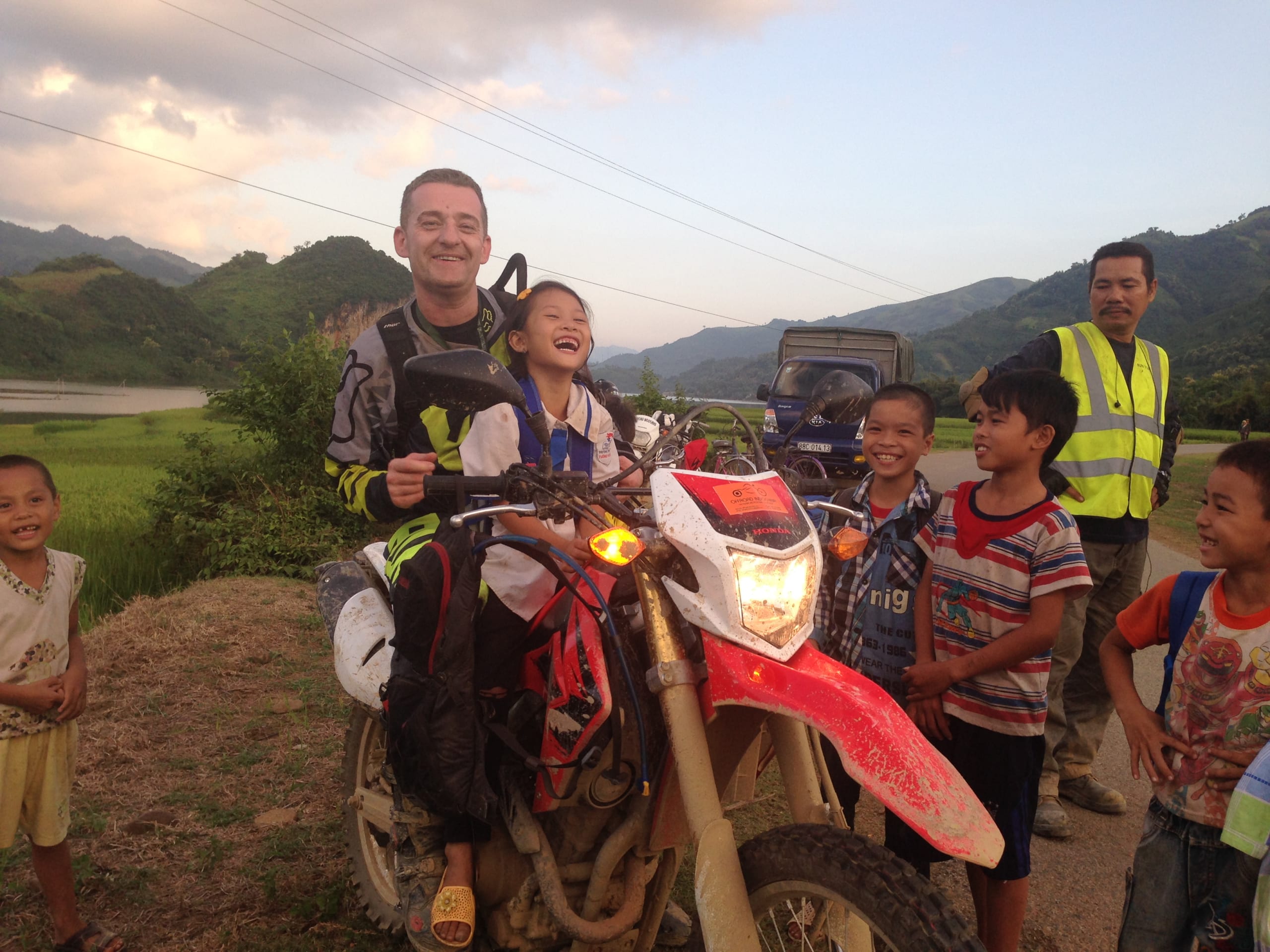 Northwest Vietnam Motorbike Tour via Northern Loop Trail – 6 days
Within six days, you will travel through the most popular tourist spots of Northwest Vietnam, including Mai Chau, Moc Chau, Mu Cang Chai, Sapa and Thac Ba Lake. This land is well-known for dreaming scenery which you can admire along the way such as Ba Khan Lake in Hoa Binh – dubbed Halong in land. It's also the paradise to hunt clouds of the youth, like Lung Van Valley.
In this tour, we will go through four worth-to-conquer passes of Vietnam, consisting of White Stone Pass, Hua Tat Pass, Khau Pa Pass, and O Quy Ho Pass – the biggest one of Vietnam.
Due to the altitude of the region, the climate here is cool all year round, especially Sapa – the summer paradise for tourists, or Moc Chai – the most special highland in the North of Vietnam.
Another highlight of this tour is that there are a lot of off-road trails and single tracks in which each one has spectacular scenes, inspiring the excitement of any real biker.
Once passing by Mu Cang Chai and Sapa, awesome pictures of the most Southeast's rice terraces will open in front of your eyes which makes your trip more remarkable.
The exciting and diverse cultures of ethnic people and their amazing cuisine will definitely urge you to come back here again.
Northwest Vietnam Motorbike Tour from Hanoi to Thac Ba Lake – 4 days
With this 4-day tour, you will see one of the largest artificial lakes in Vietnam, formed when Song Da hydropower plant was constructed. With thousands of small islands, it is called another Halong in land of Northwest Vietnam.
During your Northwest Vietnam Motorbike Tour from Hanoi to Thac Ba Lake 4 days, you also pay a visit to the ethnic, cultural village or stay overnight in Vu Linh – a village of Dzao group nestled in Thac Ba Lake. It's a chance for you to explore their culture and enjoy the peaceful atmosphere and beautiful scenery here. The people here are very friendly and hospital. Your homestay owner will treat you well with their typical local food and teach you some common words of their own Dzao language such as Hau me do (means Thank you), or Bó Dau (means bottom-up). All will become an unforgettable time in your trip.
Northwest Vietnam Motorbike Tour from Hanoi to Thac Ba Lake – 5 days
This tour is the same to the above 4-day tour, but you have one more day to discover the region. So do not be rush, relax in your own way.
Northwest Vietnam Motorbike Tour from Hanoi to Vu Linh – 7 days
This is such a long tour in which you can spend time exploring and broaden your travelling dairy. In addition to the similar experiences that you get in the 6-day tour, you will have more time to explore the distinctive cultures and cuisine of ethnic people. Once passing through rugged mountains, each bend makes you more impressed.
The most suitable dirt bikes BM Travel Adventure offers for your Northwest Vietnam Motorbike Tours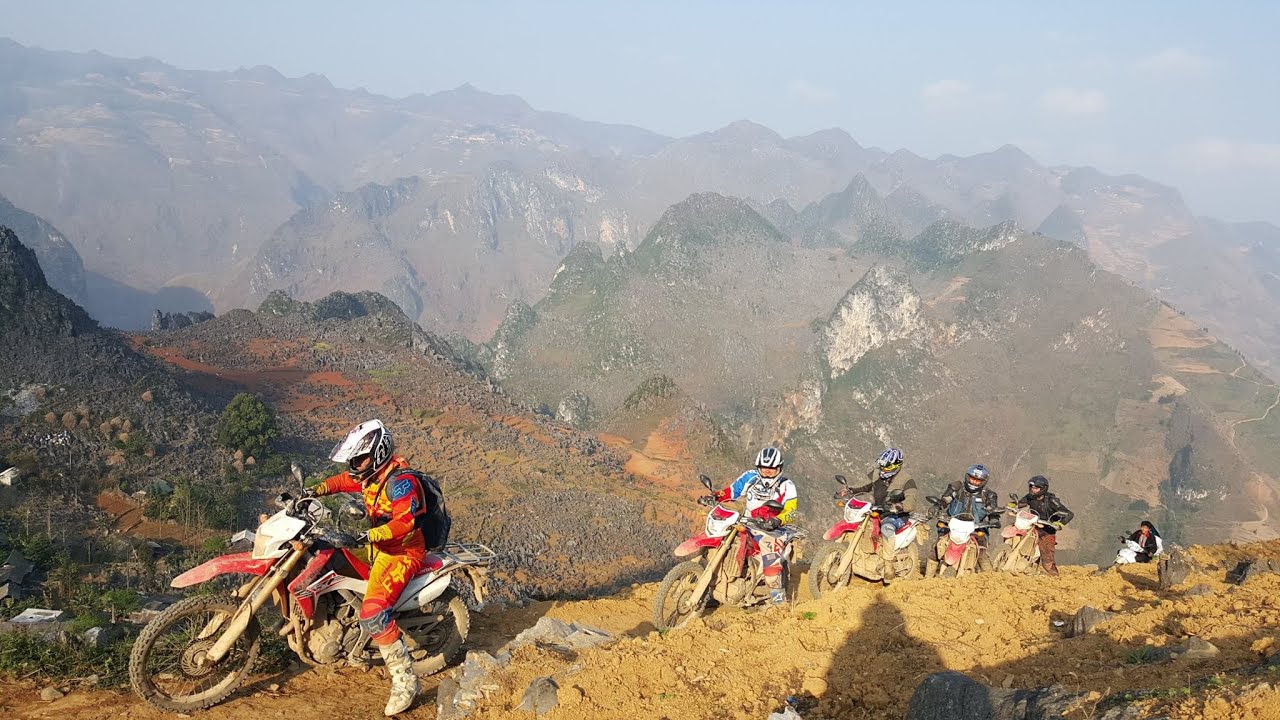 Why should you choose Honda CRF250I for your journey?
Using a water tank to cool and a 4-stroke upside-down car but the enduro direction with 21-rim front wheel and 18-rim after wheel, Honda CRF250L is able to overcome all rough terrains in Northwest. Although CRF250L is a bit heavy and discouraged running hardcore road, it can go across over the mountains and streams.
More prominent than CRF in all aspects, DRZ is also known as the dirtbike's prince. DRZ can go through any terrain, even the hardcore roads. Moreover, the brakes of DRZ are also safer. DRZ400 brings you the feeling like you are riding a real super enduro bike.
BM Travel Adventure Experience takes the great honor to become your companion in your Northwest Vietnam Motorbike Tours. We hope that our information is helpful for you! Do not hesitate to contact us for any questions.
BM Travel Adventure – Vietnam Motorbike Tours Operator
Website: https://vietnammotorbiketoursclub.com/
Address: 3/7/36 Duy Tan Street, Cau Giay District, Ha Noi City, Vietnam
Phone/ Whatsapp: +84 976 024 986
Email: info@vietnammotorbiketoursclub.com