You are planning to travel Vietnam on a motorbike but are still unsure of where to go? Check out this article now for some of the best places to visit.
Introduction
Backpacking has recently become a new travel trend among the youth. With a motorcycle at your disposal, you can fully enjoy the unique beauty of your destination as well as immerse yourself in the exhilarating and novel feeling that airplane or car-travel can never give you.
And Vietnam, a small country that is richly endowed with a variety of spectacular natural landscapes, is definitely where an adventurous heart should never miss out!
That's why in this article, we are going to show you our list of the best places to experience and contemplate Vietnam on two wheels. So, don't miss the boat!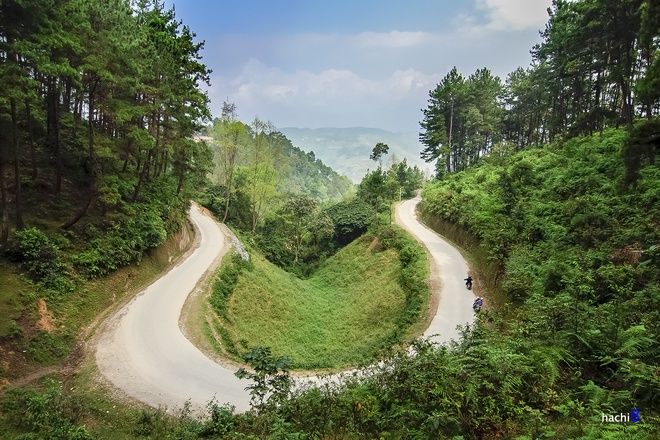 Must-Go Places
Ha Giang
It is undeniable that every adventurous heart will be immediately attracted by Ha Giang roads. Joining a Ha Giang motorbike tour, you will have a chance of experiencing different stages of sceneries.
The first place that you should pay a visit to is the Yen Minh pine forest, where pine trees grow so tall that you feel like they lift up their tops among the cloud. Come here in the summer and you will soon forget how a hot sunny day is like.
Moreover, don't forget to attend Dong Van Sunday Market. The market is held every Sunday, so make sure you do not miss out on the chance to experience the daily life of this rocky-plateau. This market was built by stone in 1920, so don't be surprised at its ancient beauty.
Than Uyen, Lai Chau
Compared to many spots in Vietnam to travel on the motorbike, Than Uyen is not a famous one as its road is really crooked and difficult to ride, especially with foreigners who are not familiar with the mountainous terrain in Vietnam.
However, you will feel that every difficulty you have faced on the road is totally worth it once you arrive here.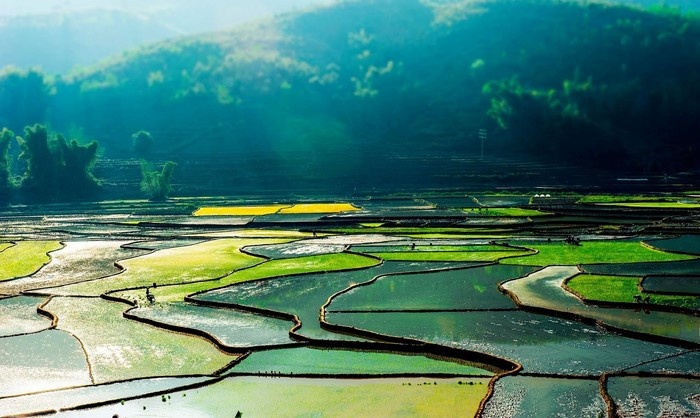 Coming to Than Uyen, you will be overwhelmed by the endless stretch of terrace fields. During the rainy season, those vast endless fields look like hundreds of giant mirrors, reflecting the colorful sunshine, the blue sky, and foam white clouds.
Mai Chau
About 140 km far away from Hanoi, Mai Chau Valley (Hoa Binh Province) is an attractive destination that is well-known for its fresh cool air,  diversity of cultures and one-of-a-kind traditional cuisine.
When viewed from the distance, Mai Chau Valley is beautiful like a watercolor painting. Riding your motorbike around this place, you will have a chance to discover some popular villages such as Lac village and Pom Coong.
Besides, if possible, try staying one night in a stilt house, and tasting some traditional dishes with the locals to truly experience Mai Chau. Also, don't forget to buy some cute brocade souvenirs when you come back home.
Ho Chi Minh Road
Ho Chi Minh Road is an interesting road that no backpackers should miss when traveling to Vietnam on their motorbike: from smoothly paved to bumpy routes.
Moreover, there are some extreme steeps on the road which would make you feel as if you were in a daze. Once reaching the tops, and gazing down the downtown valleys,  you will feel a great sense of achievement.
Along the way, you will not only get to contemplate mountains and forests but also come across dream-like golden fields with a soft sweet scent of rice, as well as unique bridges or picturesque rivers.
Phong Nha, Quang Binh
Phong Nha, Quang Binh is famous for not only its magnificent caves but also its peaceful vibe with greenfields and small villages.
Kayaking into Phong Nha Cave, you cannot help feeling lost in the fairy-tale-like world filled with stunning limestone rocks in different shapes and colorful lights.
The peaceful beauty of this place will soon ease you of all the daily-life worries and let you refresh your mind.
Khe Sanh
Khe Sanh is located in a red-soil valley 400m higher than the sea level. This place's nature is just like a dreamy picture with high mountains and foam white clouds.
Not only that, old tanks, airplanes as well as some historical sites located here and there on this land will remind you of some fierce battles in Khe Sanh.
Upon arriving here,  let your soul and mind adventurously wander to the past to witness the ups and downs of Vietnamese history. In the process of relaxing your mind here, you can somehow feel the pride that Vietnamese people show for their great history.
Da Dia Reef
From a distance, Da Dia Reef looks like a giant hive standing out in the crystal blue sea.
This wonderful location has two different sides for you to be in awe of. In the early morning, or in cloudy days, the image of waves splashing with a shroud of mist gives the place a mysterious charm.
Moreover, on a sunny day when the shimmering rays of the sunshine through the stone, this place becomes a majestic painting that no words can fully describe.
In short, Da Dia Reef is beautiful in every angle and in every season. So, just include this list of places in your plan of travel to Vietnam on a motorbike.
Plus, remember to bring a good camera or smartphone because you will not want to miss the chance of getting some of the most spectacular photos in your lifetime.
Final Thoughts
The natural beauty and exotic cultures of Vietnam are indescribable. Come to Vietnam, experience and contemplate it yourself, and we can assure you that Vietnam's beauty will totally feast your eyes.
Many foreigners have come to Vietnam and fallen in love with this lovely country. What about you? Why don't you plan for Vietnam motorbike tours and explore the beauty of Vietnam your own way?
Last but not least, thanks for reading this article. If it comes in handy to you, don't forget to share it with your friends and family. Plus, if you used to have a great time at those places, how about sharing your amazing memories, thoughts, experience, and photos with us?